October Ushers in National Breast Cancer Awareness Month!
This month marks fourteen years since I was first diagnosed with breast cancer, October 2002. I'd like to say that I had surgery, radiation, took Tamoxifen for five years, and that was the end of it. But that's not how my story goes. I was diagnosed with a recurrence in October 2008, and again in June 2011 right after we moved to Idaho, and this summer I had a MRI-driven needle biopsy–praise God it was benign. I don't know why. I only know that God is not through with me yet, and that is why I write, and that is why I speak, and that is why I evangelize and try to mobilize the Christian community to take a stand for Christ and give purpose and meaning to the years the Lord has spared me.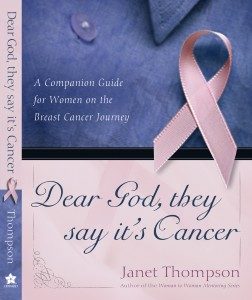 I wrote, Dear God, They Say It's Cancer: A Companion for Women on the Breast Cancer Journey after my first diagnosis. It was the book I wished I had going through the battle myself and many women tell me it's as if the Lord and I are walking right beside them.
Gloria Gaddy, who shares her story in the book, recently wrote to me:
10 Years ago I purchased this book, read it like my Bible, slept with it and prayed every day that God would heal me, He DID !  Now I am breast cancer free no more chemo meds and doing very well.  I might have to pick my book up just to remember how it brought me over.  Every time  someone is attacked with cancer it's another opportunity for God to show up.
As a gift to my breast cancer sisters, and to any of you who have friends or family with breast cancer, we're offering a special price for the month of October for Dear God, They Say It's Cancer at our website shop, and I personalize and sign each book.
You might also find this excerpt from the book helpful for knowing what to say and what not to say to a woman fighting the breast cancer battle. The Top Thirteen Things to Do or Say and NOT to Do or Say to Someone with Breast Cancer
Life Without a Bucket List
Kara Tippetts was a young mother who lost the breast cancer battle, but starting with her diagnosis she wrote openly about her journey in a blog. Now, a year after her passing in March 2015,
And It Was Beautiful: Celebrating Life in the Midst of the Long Good-Bye
brings a collection of Tippetts' insights, taken mostly from her popular blog. Great care has been taken by David C Cook's editorial team to present her thoughts with as few changes as possible in order to capture her distinct voice and unique way of arranging words.
      I thought it would be too hard for me to read
And It Was Beautiful
, but I couldn't put it down and got permission from David C Cook to share her chapter on "Choosing a Mentor" in my new book
Mentoring for All Seasons
.
      In this post, I'm sharing with you the excerpt, "Life Without a Bucket List." Like Kara, I consider every day of life a fulfilled bucket list, and as I lay my head on the pillow each night my husband Dave prays, "Thank you Lord for another day of life. We don't take that for granted."
An excerpt from And It Was Beautiful by Kara Tippetts
© 2016 Kara Tippetts. And It Was Beautiful is published by David C Cook. All rights reserved.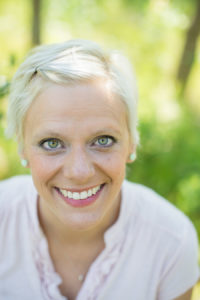 I can confidently say that I don't live with a long list of things I want to do, see, or complete before I'm done in this place. I carried a dream for years of having a farm. I was in love with all things Wendell Berry. I could picture it, the life of routine created by the land and its rhythms. But beyond that I've never longed for having a list and checking things off. I'm happy with my old cars, my simple wardrobe, my lack of fancy things and vacations. Don't get me wrong, I do love a good concert, but I also love an organic dance party in my kitchen. I love great food, but I also love a hot dog over the fire pit in my backyard. I love a hike in the mountains, but I also love a walk around the block with my people.
Last week, when I heard I may have another long road to travel on this journey, I turned to Jason and cried. I told him how day after day this place is losing its grip on me. Driving down the street this place sometimes feels so slutty, so wanting my money without a care for my heart. Billboards blare at me what to buy, what to think, how to vote. But the tie that binds me here is relationships. Sickness makes those bonds more real, more important. It's people who grip my heart.
Suffering has a way of exposing our theology, certainly our practical theology, where what we believe about God collides with where we live. My heart always hurts a little when someone hears my story and begins to question God's goodness. I have found that suffering makes my faith more childlike, more simple. Our ideas of God are not necessarily made bigger or more grandiose through suffering, but they are simplified as we wade through the unknown of what comes next. Last week, in that unknown, I was smooching on Lake and the thought hit me that I won't be around to help him navigate his first heartbreak. I was in a public place and I nearly lost my footing because of the fear that gripped me in that moment. I looked up and saw my growing girls and was almost suffocated by the thought of who will help them during the awkward years of puberty. Shouldn't it be me? That's the way it's supposed to be, right? Can't I stay and be here for them when they need me?
The truth is none of us know the length of our lives. So we pray for daily bread and say thank you when it comes. For today I have a little boy who will cross the room to give me a hug. I have a baby girl who gives me ten kisses when I ask for five. I have a preteen who still holds my hand in public, in front of her friends even. I have a second born who loves to tell me every tiny detail of her day. I have a guy who makes coffee just like I like it. A bucket list? No, I don't need one. I'm so rich. It's relationships that matter. And for me, paying attention to the precious gift of today is the only thing on my list.
~~~~~~~~~~~~~~~~~~~~~~~~~~~
Kara Tippetts' life was dramatically changed in 2012 when she was first diagnosed with breast cancer. She shared her journey on her popular blog, www.mundanefaithfulness.com. She was the author of The Hardest Peace and the co-author of Just Show Up. Since her death in March 2015, her husband, Jason, is parenting their four children and leading the church they founded in Colorado Springs, CO.
If you received this post by email, please leave a comment here.
Remember the special October price for Dear God, They Say It's Cancer: A Companion Guide For Women on the Breast Cancer Journey.