If you've followed my blogs, you know I've been stumping for Trump, not because I think he's the savior of America—no that's Jesus—but because President-elect Trump represented the only platform that would lead our country back to God. Trump has his faults, like all of us (John 8:7), and the media, celebrities, elitists, Democrats, and even the establishment Republican Party, have relentlessly attacked him and his family. But President-elect Donald Trump stayed the course to victory . . . conservatives won this battle in the cultural war.
The "deplorables" outvoted the celebrities and the elitists. The liberal progressives didn't think they needed you and me—everyday Americans, "little people," and whatever else they called us because we weren't going to matter anyway when they ruled over us. They thought we were dispensable.
How Did the Media get it So Wrong?
The night before the election, my husband and I rented the documentary Hillary's America: The Secret History of the Democratic Party—a cross between sci/fi, horror, and tragedy—except it's not fiction, it's a true story. Even if you saw it at the theater, I implore you to rent it and listen to the extra interview with Jonah Goldberg to learn the significance of how God intervened on November 8th to protect us from the clutches of Democratic progressive liberalism. And Carol Swain, a black born-again Princeton and Vanderbilt professor with five degrees and former Democrat who explains how she, "came out of the darkness into the light," and switched from the Democratic to Republican party when her research proved it was the Democrats who fought to keep slavery, founded the KKK, started Planned Parenthood to exterminate blacks, and now have them enslaved again.
At first my husband didn't want to watch Hillary's America, but Dinesh D'Souza did an excellent job of portraying the roots and plans of Clinton to not just preside over America, but literally to own America, a goal she set out with her mentor Saul Alinsky in college.  My husband and I were back on our knees, where we had been fervently crying out to God for months in our private prayer time, in our church, our small group, with our friends…in our prayer closets. We prayed for Trump and Pence to win because, as you've heard me say repeatedly, they represented the conservative platform that would give us a chance to put God back into the public square. This was so much more than a political battle—this was a spiritual battle raging in the heavenlies—and continues to rage in heavenlies and now in the streets.
And that my friends is what the media missed. They didn't poll us in our prayer closets . . . but God heard and tallied every prayer. There is power in prayer. There is power in the name of Jesus. There is power when two or more gather and pray in the name of Jesus. If you doubted that in the slightest, God made it clear on November 8, 2016.
I laughed as the media scratched their heads in shock and tried to come up with every possible scenario of why and how they were so wrong.
They kept saying we missed the "silent Trump vote." That had to be it. Perhaps that was part of it.
You Cannot be Silent Any Longer!
In the last few weeks prior to the election, more people on social media were willing to stand up for Trump, but prayer groups were "closed groups." Few were brave enough to admit they were voting for Trump. Even Clinton in her concession speech told her followers to come out from behind their closed social media groups . . . and that was good advice for us too. Christians notoriously don't like conflict. Who does? But our role model, Jesus Christ, never shrunk away from conflict when it was a case of right versus wrong or exposing sin or evil doers. Paul never avoided speaking the truth. John, Peter, James and the disciples went into all the world by foot and by sea to spread the Gospel.
We proved on November 8th that we are the majority, but we can no longer be the "silent majority"! We came out in force, but now is not the time to retreat behind our church doors, back into our homes, and safety of our comfort zones.
God gave Republicans the House, the Senate, the Presidency, and the Vice Presidency, and we're going to have some conservative Supreme Court judges. This is a window in time, in history for a revival, but we can't expect Trump and Pence to do all the work. We need to support them on the ground and we need to let them know the issues that are important to us.
Do not let fear rule you.
Do not let the Clinton followers intimidate you. They lost, you won.
That doesn't mean you gloat, but it does mean you celebrate victory and give God ALL the glory. Let the world know where that victory came from. Be bold for Christ!
Now is not the time to be politically correct or "safe." President-elect Donald J. Trump needs our prayers for protection, for picking a cabinet, for wisdom, and for success.
What to Tell Our Children
I'm baffled by the rhetoric of "What am I to tell my children about Trump winning the election?" You tell them God blessed America with a miracle and gave us another chance to get it right this time!
Tell them…
We can have righteous judges who will honor the constitution and not try to rule our lives and make laws outside their jurisdiction.
We can try to reverse a law that allows babies to be killed in their mommy's tummies, even right up until the day of delivery.
We can have affordable healthcare.
We have a chance to try and take marriage back to the way God created it to be between a man and a woman only and to protect businesses who do not wish to participate in gay marriages.
We won't have laws forced on us that men can go to the bathroom with our daughters or change clothes in their locker and dressing rooms.
We can put God back in the public square and maybe even back in the schools where He has always belonged.
We will have laws enforced and borders in place to stop people who want to do us harm, from coming illegally into our country.
God's people spoke and were heard, and you my child and grandchild will have religious freedoms reinstated and protected like our founding fathers fought for and so many gave their lives for.
What Does the Church Do Now?
The Benham Brothers made a short video the day after the election, and it's exactly what I was thinking. Please listen, it's short and to the point. I've always said this was a spiritual and moral battle more than a political battle, and praise God we were victorious in this battle, but the battle is far from over.
So we don't retreat and go back to business as usual, we armor up in the armor of God (Eph. 6:10-18). Pray to support President-elect Donald J. Trump and VP Mike Pence, however God leads you and your church. My husband and I pray an Armor of God prayer from Dr. Charles Stanley* every morning that I encourage you to also pray and share, because it's "Battle On."
When you face opposition, and you will, as you see the progressives are not going to retreat quietly, then use the only thing Jesus used, the sword of the Spirit, the Word of God.
Notice in Matthew 4:1-11, Jesus didn't get into long dissertations with Satan, he used Scripture. As the vulgarities and vileness spewed on my social media prior to the election, I started doing exactly that, and you know what…Satan retreated. Yes, I say Satan, because do your research, the heart of the progressive liberal agenda is progressively away from God as the foundation of the country—there's only one force that would be at the heart of that movement and that's Satan. Many cursing me were "proud progressive atheists."
Now we have the hard work of not just making America great again, but reminding our fellow Americans that it will never be great until all remember that our country is founded on biblical principles. If we want God to bless America, we must remember "In God we Trust." God divinely answered our prayers in this election and gave us another chance . . . let's get to work to honor Him and give Him all the glory for the things He has done. That's what I'm telling my grandchildren!
I Wrote My Last Book for Such a Time as This
Many have thanked me for standing in the gap and publically taking a stand for the outcome we saw on Election Day, but it needs to be all of us together. For everyone who turned that map red, we need to support our vote and support President Trump.
We the people made our voices heard . . . but still the "world" isn't listening. We need to speak louder. More than just a quiet X on a ballot. If you want our country to move away from the elitist atheistic "progressive" attitude, you must be an involved citizen. I've said this so many times, if I was speaking, I'd be hoarse!
I have been championing great authors and their books during this election, I would now ask my Christian brothers and sisters to read and put into action the book the Lord had me write for this very moment when we have seen victory. I'm not trying to sell books, I'm trying to move a sleeping giant into revival. To help the body of Christ now rise up and turn our culture back to God. There are study questions at the end of each short chapter, and reflection questions within the chapter. It's a book for both men and women. We're getting requests now for large groups to do Forsaken God?: Remembering the Goodness of God Our Culture Has Forgotten because now is the hour to claim America back for God. Won't you join me?
"Trump gave nervous evangelicals a gift that many of them lacked—the gift of boldness."–Lance Wallnau, God's Chaos Candidate .
Forsaken God?: Remembering the Goodness of God Our Culture Has Forgotten is also available signed on our website. *The link to the Dr. Charles Stanley's Prayer is at the end of the Excerpt from Forsaken God?.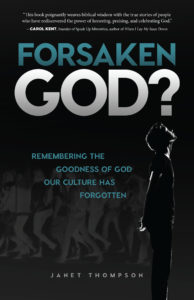 If you receive this post by email, please leave a comment here.