Today's guest post is written by my good friend and fellow author/speaker Pam Farrel. I can still remember Pam and her husband Bill sitting on our deck as I told her about writing my new book Mentoring for All Seasons and how hard it was to find stories on mentoring during midlife, menopause, and downsizing seasons. Pam readily offered her own stories of those seasons. Now Pam also has a new Bible study Discovering Hope in the Psalms: A Creative Bible Study Experience, one of the most complete and creative studies I have ever read on the book of Psalm. You'll definitely want to get this study for your personal and group study.

The Lasting Fruit of Mentoring
By Pam Farrel
Last year, my friend Janet Thompson invited me to share a story of how mentoring had transformed my life for her book Mentoring For All Seasons. And concurrently , this fall, my 45th book released: Discovering Hope in the Psalms: A Creative Bible Study Experience. To me, these books form parallel tracks, that have moved my life forward—and my prayer is they will also move millions of women's life forward.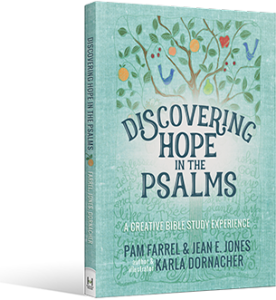 When you release a new book, one of the tasks your publisher wants you to do is send a sample, or complimentary copy of the book to gatekeepers, or women of influence who believe in God, believe in you, and believe in the ministry God has given to you. This always takes me on a mental trip down memory lane. I look back on the series of amazing mentors God has given me in my life. These women have poured wisdom, truth, strength, and common sense into me. They have built and blessed me.
I would not be who I am except for God escorting each of them across my path at just the right moment. All I had to do was keep a hungry heart to want to know and grow more.
A few of the Psalms in my Hope Bible study captures the kind of heart God is looking for—the kind of heart receptive to learning what those older and wiser have to share:
God is looking for thirsty hearts.
As a deer pants for flowing streams, so pants my soul for you, O God. My soul thirsts for God, for the living God. When shall I come and appear before God? (Psalm 42:1-2)
This word picture is of a deer searching, longing, desperate for living water to quench her/ his dying thirst. To me it is much like the kind of person Jesus talks about in the Sermon on the mount that God wants to bless: "Blessed are those who hunger and thirst for righteousness, for they shall be satisfied." (Matt. 5:6)
God is looking for contrite hearts.
The sacrifices of God are a broken spirit; a broken and contrite heart, O God, you will not despise. (Psalm 51:17)
Broken in this verse means to "shatter into tiny pieces". And contrite is to "crush to bits" I like to picture this as the tiny pieces of stained glass that in the hands of an artist becomes a magnificent work of art, more beautiful and valuable after it has been broken. In my life, many of my mentors have served as the artisans that God has used to put my life back together.
God is looking for grateful hearts
Enter his gates with thanksgiving   and his courts with praise;
    give thanks to him and praise his name.
 For the Lord is good and his love endures forever;
    his faithfulness continues through all generations (Psalm 100:4- 5)
People with grateful hearts, seek out spending time with others who want to thank and praise the goodness of God. All the many mentors of my life have taught me to be grateful, thankful, appreciative of every moment someone has shared with me, sacrificed for me, so I could learn to know God better.
This fall, I looked for ways to go, in person, and thank many of my mentors:
I spoke at Tina's church. Tina was the Campus Crusade staffer, just a few years older than me, who taught me some of the basics of the Christian walk: How to have a quiet time, how to walk by faith, how to walk in the power of the Holy spirit, how to share my faith, and how to make much better relationship decisions.
God also allowed me to say thanks to Nora, who mentored me in my role as a mother. Bev who mentored me in my role as a Pastor's wife. Pat my mentor in my role as a Women's Director, and Jill, my mentor as Christian speaker. There are many more, and in the coming months, I will look for ways to go, in person, give each a copy of Discovering Hope in the Psalms Bible study, thank them, and assure them that I value each minute they sacrificed to pour wisdom into me.
The seeds each planted have blossomed into lasting fruit around the world–and one day in eternity, each of these mentors will meet women who began a relationship with the Creator God, and grew into reproducing leaders who mentor others also—all because they cared and shared as mentors.
As each of us, who care about mentoring others, looks and prays about who God might want us to mentor, there will be women with thirsty, contrite, grateful, ready hearts we can pour into.
Who might God want you to mentor?
Who could be a mentor to you?
Pam Farrel is an international speaker,  Co-Director, with her husband, Bill Farrel of  Love-Wise, and the author of 45 books including bestselling Men Are Like Waffles, Women Are Like Spaghetti and her newest, co-authored with Jean E Jones and Karla Dornacher'', Discovering Hope in the Psalms.

Read more of Pam Farrel's story as mentor and mentee in chapters 14 and 15 of  Mentoring for All Seasons: Sharing Life Experiences and God's Faithfulness, available at all Christian bookstores, online book stores, Amazon, and signed by Janet at her website store