Our guest blogger for Love Your Body Monday is Penelope Carlevato. Penelope is my expert "tea friend," and I asked her if she would write a post for us on the health benefits of drinking tea. Many of you know that I'm a coffee drinker, but I do enjoy a good cup of tea in the afternoon or I drink Organic Traditional Medicinals teas when I am sick. In fact, I'm having a cup of Organic Chai Black Tea right now as I post this. So pour yourself a cup of tea…or coffee…and enjoy! Oh and leave a comment below for a chance to win a copy of Penelope's book Tea on the Titanic.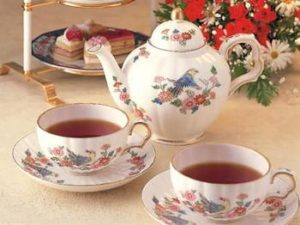 Tea provides you with a warm, calm feeling when sitting down in your favorite wicker chair on the porch, but it also helps combat and prevent many common health issues. As with most nurses, I tend to let Western Medicine be my "go-to" for health related issues. I have to admit that I am a black tea girl and don't drink many tisanes or infusions, unless I have a cold or the flu. Even then, I would rather have a cup of Earl Grey than some flowery cup of "tea." But, as the former owner of a retail tea business for many years, I began to hear testimonies of the health benefits of the herbal teas. After I did some research and testing of my own, I had to agree with the results of including herbal teas into my diet.
Herbal Teas for Your Health
While doing research for my last two books on the Edwardian era, I realized that women of that time did not have a bottle of Ibuprofen or Tylenol in their bathrooms to take for a headache or sore muscles. Instead they relied on herbs and tonics. Many still used old remedies made from herbs and spices that were passed down from generation to generation in the form of a hot drink. Plus their afternoon tea-time included the beverage of tea into the daily diets, of both the wealthy and poor.
For years, tea and herbs were the main source of helping sooth that upset tummy or a sore throat. In today's world of chemical wonders, tea still has a prominent place in providing relief. The leaves that revitalize and restore health are from the Camellia Senesis bush, a member of the evergreen family that thrives best in fertile hilly regions. Tea is very economical, yielding 300 cups of tea per pound, and is second to water as the most consumed beverage in the world. It is one of the few drinks that has no sodium, no fat, no carbohydrates, no sugar, and no calories, unless you add sugar or other additives. Tea includes four varieties: green, black, white, and oolong. Taking tea hot or cold does not change the chemical content or benefits of tea.
Scientific research acclaims that tea has incredible health benefits. Tea is rich with natural flavonoids and polyphenols that contain catechins. These catechins help in the prevention of oxidative stress, modify carcinogen metabolism, and can prevent damage to our DNA molecules. The catechins in tea can have a preventative effect on cancer, heart disease, cholesterol, clogged arteries, strokes, autoimmune diseases, and cognitive issues.
The most potent of the flavonoids is ECGC, which appears to fight against free radicals that can contribute to many chronic diseases. Last year, The American Journal of Clinical Nutrition, published 11 new studies that highlight the many benefits of tea. For several years, UCLA Center for Human Nutrition has been studying the benefits of tea and Alzheimers, and recently found that those who drank 3 or more cups per day could prevent the onset of heart problems. Harvard Medical School reports that the catechins in tea are responsible for many health benefits and helps to improve cognitive functioning and attention. From what I gather, drinking tea is a good idea.
What's "Real" Tea?
"Real" tea must contain leaves from the Camellia Senesis plant in order to be called "tea." Herbal "teas" are products of fruits, flowers, leaves, bark, seeds, or roots from plants other than the tea plant. These drinks are tisanes or infusions, and are usually caffeine free. A tisane is simply a cup of "tea" made from something else other than a tea leaf. All tea from the Camellia Senesis bush, including green tea, has caffeine. Contrary to popular belief, tea does not have more caffeine than coffee. A cup of tea will contain about 50 mg of caffeine, while the same size cup of coffee will have almost 200 mg of caffeine. Tea is also a natural source of fluoride and will protect teeth from dental cavities. Both teas and tisanes (or infusions) have many healthy benefits, plus being a tasty beverage to drink.
Let's Meet for Tea
God has used tea as a tool in my life. I am blessed to introduce many women to the art of afternoon tea and for some, the actual beverage of tea. Tea time continues to amaze me. What is there about a cup of tea that will charm a woman's heart? Is it the lovely ambiance that usually occurs over a cup of tea, or is it such a different mind-set than the frantic world in which we live? I know it is a wonderful setting for creating friendships. Ecclesiastes 4:9-10 expresses the essence of being a friend. "Two are better than one, because they have a good return for their work: if one falls down, his (her) friend can help him (her) up. But pity the man (woman) who falls and has no one to help him (her) up." Tea has benefits far beyond our physical health.
What Kind of Tea Should You Drink?
Black tea, green tea, or one of the tea infusions. All good choices, but remember, only the leaves from the Camellia Senesis plant count as tea, and will have the benefits of the flavonoids. Caffeine-free infusions, (herbal teas) also give healing benefits in a wide variety of ways. Many of the herbal infusions contain minerals and vitamin complexes that are good for our health. Some can be used cool as topical astringents. Just because herbs are natural, check that your medications won't interact in a negative way with the herbal tea you choose.
Peppermint is easy to grow and can help clear a stuffy nose, constipation, or upset stomach.
Rooibos is a naturally sweet tea made from a South African Red Bush. It is rich in vitamins and minerals and can help with tension and headaches.
Ginger tea helps with motion sickness and is especially beneficial after surgery and for headaches.
Chamomile has a calming and anti-inflammatory effect and is helpful for those with insomnia.
Rosehips are the fruits from the rose plant and a great source of Vitamin C.
Lavender teas can help with depression and help decrease fevers.
Lemon balm is said to help with brain function and also relieves cold sores.
Hibiscus flower helps lower blood pressure, and because it is rich in Vitamin C helps strengthen the immune system.
Yerba Mate is full of antioxidants and vitamins and is said useful in weight loss.
Pu-erh is a tea category all its own, but boasts of being able to relax stomach muscles and relieve bloating.
Herbal infusions should be made with water that has just come to a boil. If the water is too hot it will destroy some of the precious and essential oils that account for their health benefits. Always read the labels and avoid those infusions with artificial flavorings. A new finding for brewing infusions is letting them steep for longer periods of time than you would a tea.
Tea Beauty Tips
Tea and herbal infusions can also provide inexpensive beauty aids. Here are some quick remedies for everyday uses for tea bags:
Reduce dark circles and puffy eyelids – Place used bags of tea on your eyelids.
Relieve the sting in sunburns – Cold compresses of tea bags help to relieve the redness and pain.
Smelly feet – place tea bags inside your shoes. Soak your feet in a solution of cooled tea as it helps stop the spread of bacteria and fungus.
Condition dry hair – make a quart of warm tea as a final rinse after shampooing.
Soothe and dry a rash – dip a cotton ball into strong brewed tea and dab on the affected area. Repeat as necessary.
Antique new items – soak garments in a tea bath to create an "antique" look for tablecloths, or other linens and lace. Steep in strong tea solution for 20 minutes.
Rose bushes – put used tea leaves around your rose bushes to give nutrients to the roo
Making the Perfect Cup of Tea: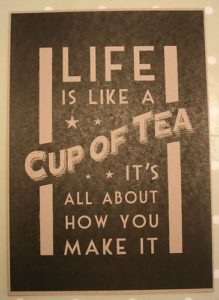 Always start with fresh cold water in your tea kettle.
Warm your teapot by swirling a small amount of boiling water in it or fill teapot with hot tap water and pour out just before the water in the tea kettle comes to a boil.
Measure your tea and place into the teapot or into an infuser basket. If using teabags, place then into the teapot.
Pour the freshly boiled water over the tea leaves or teabags. If using green tea or a tisane, use the water just as it comes to a boil.
Leave the tea leaves to steep for 3 to 5 minutes. Remove the leaves from the pot as an extended time can make the tea bitter.
Pour tea into a cup and enjoy.
While the benefits of drinking tea not only add nutrients and healing properties, just the fact of taking the time to sit down and enjoy tea time adds to our well being. Tea is not just a leaf on a tree, it can be the gift of eternal life if we share Jesus one teacup at a time
Proverbs 4:22 "For His Words are life unto those that find them, and health to all their flesh."
Leave a comment for a chance to win a copy of Tea on the Titanic.
About Penelope Carlevato
Born in England, Penelope was raised in an English home on the plains of South Dakota. Her mother, a British war bride, loved to have friends and family in for tea. Penelope grew up with an apron tied around her waist and has continued the tradition of hospitality learned at her mother's feet. She and her husband, Norm, reside in Colorado and are the proud parents of 3 and the grandparents of 11. Whenever the grandchildren are around, there will always be a tea party!
Penelope has been involved in Women's Ministries in her local church, a Bible Study leader, mentoring, and is an international speaker. She is the founder of Penelope's Tea Time, a retail tea business, which she operated for 20 years. She has taught classes on "The Art of Afternoon Tea" and co-hosted a cooking show called "Cooking up Wonders," and currently writes a column for the magazine "Leading Hearts." Her love of England and tea was the stimulus for her "Taste of Britain Tea Tours." Her books, Tea on the Titanic, and First Class Etiquette are available on Amazon or her website . Please sign up for her blog, Tea Musing from Penelope.