God has been talking to me this week about the need for unity in the body of Christ, especially as we face these uncertain times. With the daily assaults of world events, and the diversity of reactions and responses from believers, we come face to face with how Satan is using disunity to invade not just the world, but also the church. How the God who wrote that a house divided against itself cannot stand must be heartbroken as He watches His creation, His church . . . His world . . . crumble. As a body, we are quick to point out the failings of the "world" and the liberal agenda, but how closely do we look at the failings in the earthly world of Christ?
Satan is using the very morals and values the church was built on, recorded and upheld in the Bible, to successfully divide the church. It's no longer only about music and pews or chairs that divide churches—as ridiculous as those issues seem to me—it's about moral issues and the definition of sin. How did we get here? How did we let Satan implode the church? It was subtle and sly as he always is, but today there are many churches where it's hard to tell the difference between them and the world.
Through the Eyes of Our Children and Grandchildren
Last Monday was grandparent's night at AWANA's, so my husband and I proudly accompanied 10-year old granddaughter Katelyn. She asked me to help her with these study verses in Acts 2:44-47:
44 All the believers were together and had everything in common. 45 They sold property and possessions to give to anyone who had need. 46 Every day they continued to meet together in the temple courts. They broke bread in their homes and ate together with glad and sincere hearts, 47 praising God and enjoying the favor of all the people. And the Lord added to their number daily those who were being saved.
As we answered together the questions about these verses describing the early church, I thought: This must seem so strange to Katelyn. She doesn't see this happening in the church today. The answer is right here why there are not more people saved daily today. All believers do not have everything in common and they don't enjoy the favor of all people watching them. Instead, we are ridiculed and not taken seriously by the world because often it's hard to get two Christians to agree on the same topic.
We may look at the early church as utopia: a community that we all crave, but don't believe is possible today. During those early days, the power of God overcame the selfish individuality of people united in awe of God. What happened?
Chris Tiegreen answers that question in The One Year Devotional:
"Spirit-filled fellowships turn into institutions, with all the baggage institutions seem to require. Personal agendas and concerns begin to rival one another, and eventually fellowship is corrupted or even broken. The body of Christ becomes a collection of churchgoers, and instead of one heart and mind, there are many."
His antidote:
"Drop the personal agenda. Fill your days and nights with overflowing praise, letting the character and work of God become your obsession. Encourage others to do the same. Churches unite when they can focus on a single goal."
That single Goal: Jesus.
If we focus on our differences, our focus is on each other. If we focus on unity, our focus is on God!
This morning in my Quiet Time, as I studied John 13-17, the author of my Walk Thru the Bible Devotional asked: What's the difference between union and unity? Take a dog and a cat, tie their tails together, and hang them over a clothesline. The result will be union, but not unity!
Christians too often experience union without unity in the body of Christ: church fights and splits prove that unity is not automatic in the church. Throw out a spiritual or moral question on Facebook and watch Christians differ.
I wrote an article for Crosswalk.com "What the Divorced Christian Wants You to Know" and I was appalled to read how churches have treated their own. One person even responded that Christians are the only ones who condemn their own. Another was from a former Muslim, who had converted to Christianity and was ostracized from her Christian church because she was divorced. I read the comments with tears for the many Christians who do not understand, or have not experienced, confession, repentance, forgiveness, and grace. This blog was reposted @ IBelieve.com and the comments there from hurting divorced Christian women broke my heart.
Today's blog is not about divorce, but you can read my articles and the comments if you choose.
"When the Bible speaks about church unity, it speaks of unity not at the expense of truth, but on the basis of it."—Daily Walk
How good and pleasant it is when God's people live together in unity! Psalm 133:1
"It [unity] turns a common gathering into a priestly community, able to communicate God to humanity and vice versa. It [unity] points to His character for those who don't know Him and it confirms His presence among those who do. Unity is the best evidence that God is living, active, and where the fellowship is.
God desires our unity because our unity shows the world who He is and how He works. If we don't have it, they won't know Him.—Chris Tiegreen
Do you still think unity is Utopian? I don't. I witnessed unity among diverse faiths just yesterday. The Mormon Church in our little mountain community hosted a women's Christmas luncheon and invited women of the community from all faiths, and those with no particular faith. For the fourth year, since I've lived here, I've attended at the invitation of my sweet Mormon neighbor, Anita, who also attends our church women's retreats and events. As I looked around the room yesterday, I saw that over half the women there were from my church! The theme was Christmas from Different Cultures, and various women shared the traditions they grew up with, including a Dutch woman from my church.
We sang Silent Night together in different languages. We listened to "Mary Did You Know." We prayed together. We ate amazing food from different cultures together. And we celebrated the birth of Jesus in united fellowship together. My Dutch Christian friend, along with a Mormon woman, each gave a testimony of how amazing and Christ-like this gathering was that even with different theologies, we could meet as women of the community in fellowship and unity. What a witness to any unbelievers!
Next Friday, our church will do the same with a Women's Christmas Dinner inviting all the women of the community. There will be women from the Catholic Church, Calvary Church, Mormon Church, Seventh-Day Adventist Church, gay couples, unbelievers, unchurched neighbors, seekers, friends, and family. They'll eat together, enjoy a gospel message, which I was honored to give my first year here and last year, talk, sing carols, watch a puppet presentation, and show the world that while we may have our differences, one unifying message will prevail: Christ was born on Christmas Day to offer forgiveness and salvation to a lost world!
How are you bringing unity into your community?
And how will it be a witness to the world?
How else will the world know Jesus?
Jesus prayed:
My prayer is not for them alone. I pray also for those who will believe in me through their message, 21 that all of them may be one, Father, just as you are in me and I am in you. May they also be in us so that the world may believe that you have sent me. 22 I have given them the glory that you gave me, that they may be one as we are one— 23 I in them and you in me—so that they may be brought to complete unity. Then the world will know that you sent me and have loved them even as you have loved me.—John 17: 20-23
xxxxxxxxxxxxxxxxxxxxxxxxxxxxx

As I was finishing this blog, I took a lunch break and was scrolling down on Facebook, and came across a post by Barbara Faber Kopitzke @ www.facebook.com/GodsWordinEverydayLife, which had been shared by one of my Facebook friends. I almost choked on my turkey sandwich as I saw that God had prompted Barbara, who I did not know, to write on the same topic I was writing on here. Yet another confirmation from God that in the face of the evil we see in the world, we must stand strong and united as one body in Christ. I asked Barbara if I could share her post and so I will leave you with her very well stated words and the picture she used. You will want to follow Barbara for more posts and articles.
Repairers of the Church Breach! By Barbara Faber Kopitzke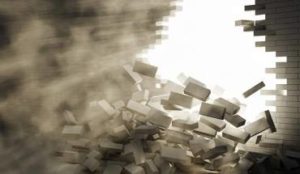 We are so much better unified. The things that separate us are very often minor compared to the bigger issues we face in this world. The very thing that should bring us together, being the Church Body, is what separates us. Church walls aren't meant to divide one segment of the Body from another, but they very often do.
Imagine the results if the physical church building we each attend was crumbled and scattered, the way the spiritual Church Body often is: one stone here, one brick there.
Refuse to be a separator: be the glue which unifies. One group prays this way, another prays that way, one worships this way, another worships that way. The important thing is not that we do it differently, but that we both believe there's a need to lift prayer to God, and we do it!
One focuses on evangelism, the other on prophecy. One meets in a house, the other in a building. Thank you, God, that Your Body is fully operational, each specializing in the gifts You've given them to use for Your glory!
Forgive, let go of hurts, and know that many have been damaged and have damaged; you are not the only one. But God is the Restorer and Repairer, He is willing and able to close the gap and repair the breach! We are His instruments of repair and restoration – let Him use you for this purpose! If God can forgive them, so can you – this is the beginning of repairs and restoration!
Hold nothing against the Church down the road; love and be loved, there is power in this!
Amen!
If you received this post by email, please comment here.